As evidenced by multiple wins in the annual Cars.co.za Consumer Awards – powered by WesBank, Volkswagen has made continuous improvements and a host of refinement upgrades to the Amarok to keep its contender at the sharp end of the battle for Leisure Double-Cab superiority. Now, armed with the most powerful turbodiesel engine on the bakkie market, the venerable German offering is more potent than ever.
We like: Ride refinement, performance, build quality
We don't like: Eye-watering price, tight rear legroom
Fast Facts
Model: 3.0 V6 TDI Extreme 4Motion
Price: R996 000 before options (January 2021)
Engine: 3.0-litre turbodiesel V6
Power/Torque: 190kW/580Nm
Transmission: 8-speed automatic
Fuel consumption: 9.5 L/100 km (claimed)
Top speed: 207 kph
What is it? ​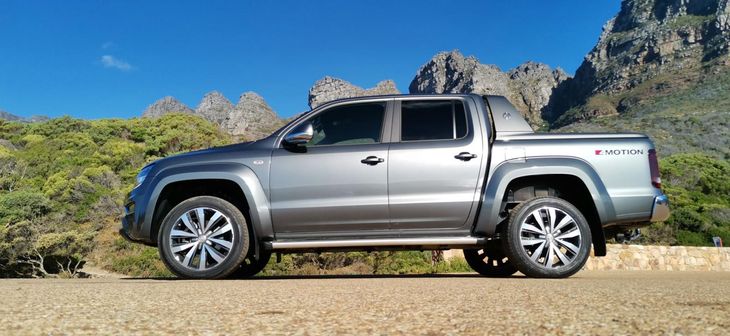 Still looks the part, doesn't it? Flagship Extreme model boasts 20-inch alloy wheels as standard while body-colour "sports bar" is optional.
An all-new Amarok (which will be based on the next-generation Ford Ranger) is expected to be introduced in 2022 – and it will be manufactured right here in South Africa (by Ford). The current model has been on the local market since 2011 and is, therefore, enjoying a much longer product life than what is usually the case. Volkswagen got many aspects of the 1st-generation Amarok spot on…
While single-cab workhorse versions never took off on the local market, the premium character and inherent refinement of the big VW made it a leading contender in the Leisure Double-Cab segment. In fact, it has won this segment in the Cars.co.za Consumer Awards – Powered by WesBank for 2 years in a row, defeating the market favourites from Ford (Ranger) and Toyota (Hilux).
Its victories had a lot to do with the fitment of VW's lusty 3.0-litre V6 turbodiesel engine, which is turned up to 190 kW (from 165 kW) in the 3.0 V6 TDI Extreme 4Motion. Priced just R4 000 shy of a million, it's the most expensive bakkie on sale in Mzansi. During the month the VW spent in our test fleet, we hit the long road (which included gravel- and off-road excursions) to find out whether it can justify its price tag.
How it performs in terms of…
Performance and ride/handling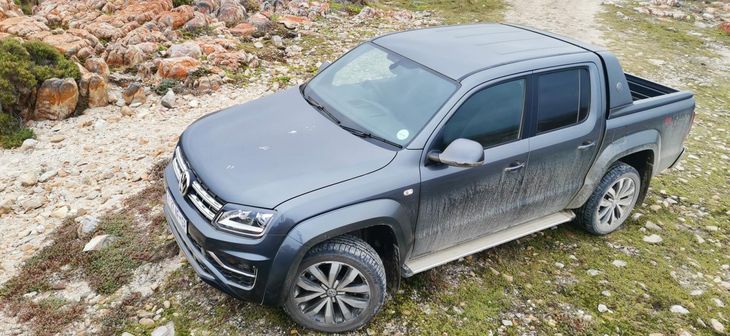 We did a lot of gravel-road driving in the Amarok, an area where it remains one of the best on the market.
In addition to being the most expensive bakkie on the market, the Amarok is also the most powerful. The 3.0 V6 TDI (which used to be the engine in the Porsche Cayenne turbodiesel), now produces 190 kW (from 165 kW), but can even deliver 200 kW for short bursts of time. Torque is up to 580 Nm (up from 550 Nm), available from 1 400 to 3 000 rpm and is sent to all four wheels (4Motion permanent all-wheel drive) via an 8-speed automatic transmission. Volkswagen claims a 0-100 kph time of 7.6 sec and a top speed in excess of 200 kph. As we discovered with the 165-kW variant, the Amarok is seriously quick, but I do think that, for most buyers, winning drag races will not be a priority; they'll likely to enjoy the bakkie's stonking overtaking acceleration and serious towing power (it has a 3.5-tonne braked tow rating).
But, having said that, the Amarok V6 TDI is not a bakkie that constantly reminds you of its vast power reserves. The power is there, and instantly accessible, of course, but in general driving conditions, it's a refined and smooth operator, with the 8-speed 'box rushing through the gears to get you the perfect balance of sustainable cruising ability and economy. If you really want to "wake up" the beast, it's best to indicate your intentions to the gearbox by tapping the transmission lever down into "S" mode, or by using the 'shift paddles mounted on the steering wheel. In terms of fuel economy, Volkswagen claims an average consumption of 9.5 L/100 km, but a more realistic return would be around the 12 L/100 km mark, especially if you're planning to make use of the Amarok's stupendous shove more often than not.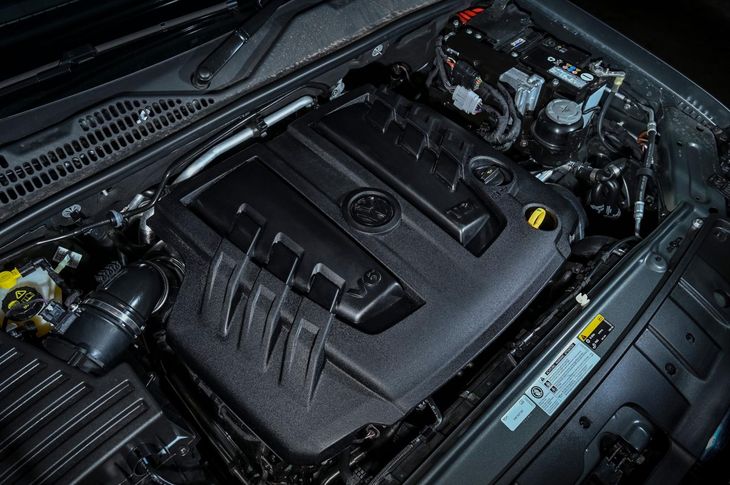 The heart of the most powerful (and fastest) bakkie on sale in South Africa.
There was a time – not that long ago – that installing such a powerful engine in a bakkie's engine bay would be regarded as a bit reckless, given the historically relatively utilitarian underpinnings of these "workhorses". There are no such concerns with the Amarok, though, as it has always driven more like a well-sorted SUV than a pick-up. We drove the Amarok on a wide variety of surfaces, including loose gravel and wet tarred roads and it never failed to impress with its stability and ride refinement. Somehow, it's less prone to the rear-end skittishness that afflicts so many other bakkies. Road-holding is, of course, aided by the 4Motion all-wheel-drive system. Oh, remember to hit the "Off-road" button when driving on gravel roads, as it recalibrates and boosts the effectiveness of the ABS on low-grip surfaces.
When you head off the beaten track, the Amarok continues to impress, although it's not ultimately as capable as say, a Hilux – largely because it cannot match the Toyota's ground clearance and (to some extent) axle articulation. Still, as long as you can clear an obstacle, you're likely to go over (or through) it with ease thanks to the V6's sheer grunt. It continues to amaze us just how capable the Amarok is off-road without a low-range 'box or selectable off-road modes. The very low-geared 1st ratio, great throttle modulation and a lockable rear diff help its cause, but it's not a class-leader in the really rough stuff.
Exterior design & Packaging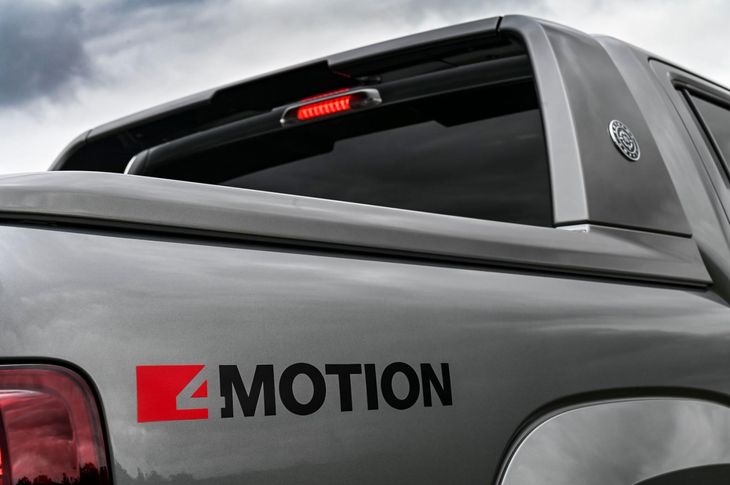 Swoopy Extreme-badged "sports bar" looks the part… but is of little practical use.
By virtue of receiving numerous updates and detail refinements through the years, the Amarok arguably remains one of the most handsome pick-ups on the market. This Extreme-badged variant is particularly pleasing to the eye. Finished in Indium Grey metallic and riding on striking (standard) 20-inch Talca alloy wheels, this particular example also featured a body-coloured "sports bar", which is an optional extra. Rounding off the neat exterior look are bi-xenon headlights with LED daytime running lights, a blacked-out B-pillar and 4Motion side decals.
The Extreme's limited practicality is a drawback, however. It's not a problem that's unique to the Amarok, but considering this vehicle's high asking price, one would have expected some sort of load-area cover, whether by a traditional tonneau (canvas) cover, or perhaps a roller-shutter system – as fitted to the new Hilux RS. Plus, for the nicely-sized load bay to be useable, it really needs to be rubberised as standard.
Volkswagen claims the Amarok's cabin is the most capacious in its class and it certainly is generous in terms of width (shoulder room) and height (headroom), but it is not a class-leader in the area of rear legroom. There are no such issues at the front, however, where the steering column offers a generous range of adjustment (rake and reach); the VW's cabin width and excellent seats give it a luxury SUV feel.
Interior execution and features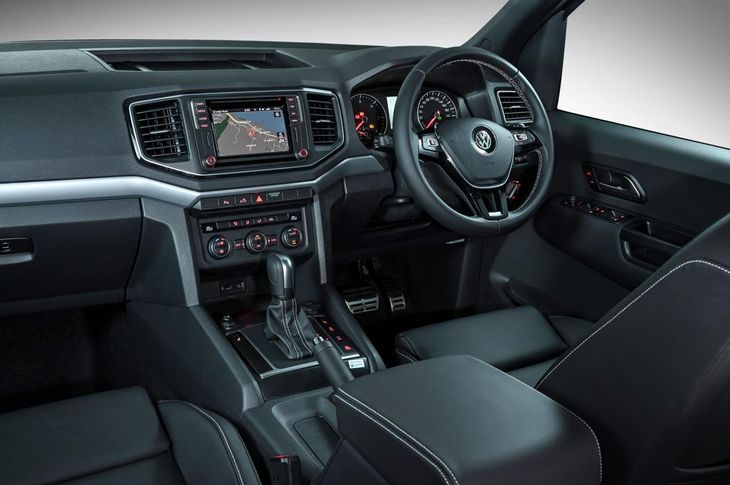 Amarok still boasts one of the classiest cabins in the bakkie segment.
Although lacking in soft-touch plastics on the fascia, there are enough premium surfaces and detailing in the Amarok's cabin to make it look "expensive". This Extreme gets special Nappa leather with contrast stitching, 14-way electrically adjustable front seats (with heating) and a leather-wrapped steering wheel with shift paddles. It has a typically (for the brand) neat fascia layout, with analogue instrumentation flanking a digital information screen. Dual-zone climate control, cruise control and a comprehensive infotainment touchscreen system is fitted (the latter of which includes satellite navigation). Of course, a reverse-view camera is part of the deal, as are automatically activated wipers and lights.
On the safety side, the Amarok offers ABS with EBD, an electronic stability programme and tyre pressure monitoring, but it lags its rivals in the airbag count. The Amarok comes from an era when rear airbags were not considered a high priority in this segment, but times have changed, and the lack of any airbag protection in the rear could be of concern to those buyers hoping to use the VW as a family vehicle.
Price and after-sales service
The Amarok 3.0 TDI V6 Extreme 4Motion sells for R996 000 (before options, January 2021). Included in the price are a 3-year/100 000km warranty and 5-year/90 000 km service plan. Service intervals are scheduled for every 12 months/15 000km.
Verdict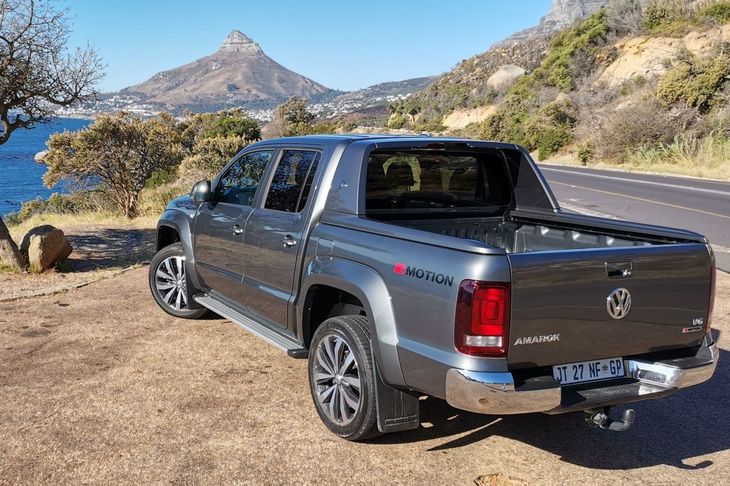 Even after a decade, the Amarok's combination of handsome design, refined and powerful performance and SUV-like ride/handling continues to impress.
In most ways, the VW Amarok 3.0 V6 TDI Extreme is a more convincing R1-million bakkie than the now-discontinued Mercedes-Benz X-Class ever was. This is quite an astonishing achievement, given the advanced age of the Amarok platform. But is this particular derivative worth more than R100k in outlay compared with, for example, the Ford Ranger Raptor and latest top-spec Toyota Hilux? The answer to that question ultimately depends largely on how desperately you need that extra oomph (perhaps you need to tow sizeable trailers often). Engine aside, the Amarok remains a class-leader in terms of refinement and ride comfort, but it now trails newer offerings when it comes to cabin packaging (rear legroom), features (keyless entry, adaptive cruise control etc.) as well as safety (no rear airbags).